Adobe
Retail

$

995.00
$

228.95
Electronic Software Delivery
---
Creative Cloud Student and Teacher Edition (One Year Subscription - Annual Price) with Free Introduction to Photoshop Online Course
This Item Contains:
Adobe Creative Cloud Student and Teacher Edition (One Year Subscription - Annual Price)
Shaw Academy - Introduction to Photoshop Online Course
Creative Cloud Student and Teacher Edition (­12 Month Pre­Paid)
Produce breakthrough designs without breaking the bank.
Please Note: Once your order has been processed, this product is nonreturnable. No eligibility is required to be given to JourneyEd.com for this item, as Adobe does eligibility verification upon installation.
The 2015 Release of Adobe Creative Cloud Is Here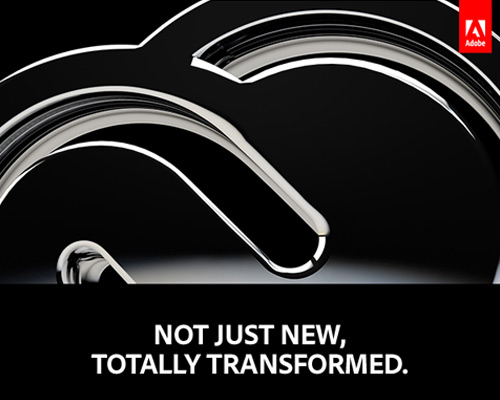 What's new?
Of course we never hold back on bringing you the latest cool features. This Creative Cloud release includes new Adobe magic and incredible performance boosts to your favorite desktop apps. The companion mobile apps bring that Adobe magic to your devices, and now there are even more ways for you to use the powerful, connected mobile-to-desktop workflows to create your best work. Due to popular demand, we're adding two new iOS mobile apps to Creative Cloud, and Android support for four of our most popular mobile apps.
And to further accelerate your creative process, today we're introducing Adobe Stock—our brand new service with deep connections to Creative Cloud and integration into your favorite desktop apps. Search, manage and purchase from 40 million curated Adobe Stock images directly within the new CC desktop apps.
At the heart of Creative Cloud is Adobe CreativeSync—an exclusive technology that ensures that your files, photos, fonts, vector graphics, brushes, colors, settings, metadata and stock images from Adobe Stock instantly appear in your workflow right where you need them. CreativeSync lets you start your creative work on any device and seamlessly pick it up on another. From initial idea to finished work, CreativeSync is the engine that lets you create wherever you are.
More Adobe magic and huge performance improvements in fifteen desktop apps:
In Adobe Photoshop CC, Artboards lets you make multiple layouts of different sizes in a single document, and the new Device Preview shows how designs and interactivity will look and adapt on mobile. The Healing Brush, Spot Healing Brush, and Patch tools have been turbocharged with Mercury Graphics Engine enhancements, so you get results up to 120 times faster than you would if you were using CS6. And be sure to check out the new Photoshop Design Space (Preview Technology), a streamlined experience optimized for designing websites and mobile apps.
Adobe Illustrator CC is the fastest version yet—ten times faster and ten times more precise than CS6. Thanks to a new Mercury Performance System boost, you can pan, zoom and scroll faster and more smoothly, and zoom into your artwork to create and edit with incredible precision. And should your system crash before you've had a chance to save, just relaunch the app and your work will be restored.
Adobe InDesign CC gets its own Mercury performance surge with twice as fast zooming, scrolling, and paging through complex documents. InDesign CC now also lets you publish and distribute documents with a single click.
Adobe Photoshop Lightroom CC includes Dehaze, a stunning new feature (also available in Photoshop CC) that lets you eliminate fog and haze from images—even underwater shots. Or you can add haze for artistic effect.
Adobe Premiere Pro CC continues to lead the video industry and this is our best release yet. The intuitive and powerful Lumetri Color panel helps you make instant color corrections, and Morph Cut magically smooths and polishes jump cuts and dialogue pauses to deliver a polished interview. With brand new Creative Cloud Libraries integration, Premiere Pro CC takes full advantage of CreativeSync technology so assets like color "Looks" and graphics flow seamlessly between Adobe mobile apps and Premiere Pro CC, After Effects CC, Photoshop CC and more.
Adobe After Effects CC dramatically improves your productivity with new support for Creative Cloud Libraries so all of your assets are at your fingertips. Uninterrupted Preview allows you to adjust a composition's properties and even resize panels without interrupting playback. Make sure you also check out the groundbreaking new Character Animator, which tracks your movements via webcam and transposes them onto a 2D character.
Adobe Dreamweaver CC reduces the effort to create mobile websites with support for responsive design to create production‐ready websites that dynamically adapt to various screen sizes, and includes the ability to preview and test websites on multiple devices in real time.
Adobe Muse CC has instant access to the fonts in Typekit, making it easier to get your web designs done faster. Adobe Muse can also integrate blogs, shopping carts, and more using new widgets downloaded from the Library panel.
Adobe Creative Cloud Membership
Creative Cloud delivers everything you need to create, collaborate, and publish — all in one place. You get all­ new desktop versions of your favorite tools, immediate access to new products and features as soon as they're released, and a host of other services and benefits, like easy file sharing and cloud storage.
Conveniently share your work with the creative community through built­in integration with Behance ProSite, and sharpen your skills with a growing library of expert training videos.
With Creative Cloud, your entire creative world gets its own central dashboard, where everything is organized for you. Track comments posted to shared files, keep tabs on your work and your followers on Behance, download the latest product updates, and more.
Shaw Academy - Introduction to Photoshop Online Course
Learn to master the skills of image editing and take your images to a new level.
Image editing is an essential and integral part of Digital Photography and essential to expand your creative abilities as a photographer, whatever level you are at.
Whether you are a landscape photographer who wants to enhance the colours and vibrancy in your images, or a portrait photographer wanting to cosmetically retouch a shot, a knowledge in Photoshop will equip you with the skills to carry out editing and enhancements to really take your images to a new level. A firm understand of the power of post-production and image editing will open up a whole new world of creative tools and techniques.
The course aims to equip you with the skills and knowledge to enhance and retouch images at a professional standard and add another layer to your skill set as a photographer.
Lessons
1. Adobe Bridge
Lesson 1 looks at Photoshop's powerful file management system, Adobe Bridge. Every year we shoot thousands of images and an efficient way to sort, organize and find your images is an essential part of your photography skill set. We will look how to utilize some of Bridges features such as labelling, rating and key wording which will allow you to create a workflow where you can find images in a matter of seconds.
2. Photoshop Walk Through
Lesson 2 takes you around the Photoshop interface to familiarize you with this image editing power house. We will also look at some image editing fundamentals such as image size, resolution and file formats. This essential knowledge will give you an insight into the quality of the images you are working with and the possibilities for resizing.
3. Enhancing Images using Adjustment Layers
Lesson 3 introduces you to one of the most important functions of Photoshop, Layers. Adjustment layers allow you to repair and enhance images in a non-destructive and continuously re-editable manner. We look at the basic principles and concepts of using layers and begin to dig into the core adjustments that will help give your images new life.
4. Adjustment Layers continued
Lesson 4 continues our exploration of the core adjustment options offered by Photoshop and will give you an insight into how each one works, and when and where to apply them. A firm understanding of how these strong adjustments work, will allow you to enhance your images and give them a new creative edge.
5. Image Layers
Photoshop is renowned for its ability to put multiple images together, cut someone or something out of a background and drop them in another picture, or simply remove an unwanted object seamlessly. To begin to develop these hugely creative and practical skills, you need to understand image layers and selections. Lesson 5 introduces you to working with layers and basic selection tools, so that you can begin to understand the true potential of Photoshop.
6. Selections and Retouching
Lesson 6 takes the subject of selections a step further. We look at some of more complex selection tools and how to refine these selections to make seamless adjustments and cut-outs. We will also look at how selections and layers work together with some of Photoshop's retouching tools to begin to develop your retouching skills.
7. Raw Processing
Shooting in the raw format will ensure you fully utilize your cameras potential and allow for much more control over your images during the editing process. When you shoot raw you add a raw processing stage to your workflow to take full control over your images. Adobe Camera Raw, which is built into Photoshop, is one of the most important processers available. Lesson 7 introduces you to the Adobe camera Raw platform and digs into some of its essential editing tools.
8. Raw Processing Part 2
Lesson 8 digs even further into the incredibly sophisticated Adobe Camera Raw utility and explores more of its repair, enhancement and retouching tools. We also look at amazing batch processing features which allow you to edit and enhance 100's of images at once without having to edit each one individually. Developing this skill set is invaluable and will save you hours upon hours of editing time.
*On demand lessons will be pre-recorded and will be made available at a later date.
Frequently Asked Questions
How do I participate in the live webinars and access the recordings?
You can participate using your own computer via the internet, both Windows and Mac devices will surfice.
You can access recordings via your student log in area found in menu tab.
Live lessons are not essential in order to pass diploma courses. You can view the recordings in your own time.
What is the duration of one webinar?
It lasts approximately 1 hour, not including questions and answers at the end of the live sessions.
What if I miss the lecture? Will I be able to catch up?
That's no problem. We also record each lecture as we broadcast them. We make these videos available to you within 24 hours of each lecture concluding and you will have unlimited access to the videos for up to 12 days after the entire course has been completed.
Are there any assignments?
We provide you with weekly quizzes in order to self-assess your progress. These are completely voluntary and a fantastic revision tool. Only live courses have weekly quizzes.
Upon course completion a final assignment will be made available. There is a €5 administration charge for non-members to complete the final assignment and receive the certificate. All certificates are free for members.
System requirements
Adobe Creative Cloud membership provides access to all CC desktop apps for download and installation on your local computer, as well as additional apps and online services. Desktop applications included with your membership are available in both Mac OS and Windows versions. The Creative Cloud website is designed to work optimally in the latest versions of Chrome, Safari, Firefox, and Internet Explorer. The site should degrade gracefully on older browsers; you may have trouble using certain features on those older versions. Internet Explorer 8 and earlier are not supported.
Mac OS: Multicore Intel processor with 64-bit support, Mac OS X v10.6.8 or 10.7, 4GB of RAM, 10.5GB of hard-disk space.
Note that Dreamweaver, Fireworks, Flash Builder, Flash Professional, and InDesign do not require 64-bit support.
Windows: Intel Pentium 4 or AMD Athlon 64 processor, Microsoft Windows XP with Service Pack 3 or Windows 7 with Service Pack 1, 4GB of RAM, and 10.5GB of hard-disk space.
Additional requirements:
Adobe Premiere Pro, After Effects, and Encore: Intel Core 2 Duo or AMD Phenom II processor
Adobe SpeedGrade: Intel Core i7 processor
Adobe Premiere Pro, After Effects, Encore, and SpeedGrade: Windows 7 with Service Pack 1 (64 bit)
Adobe Edge Animate: Windows 7
Adobe Edge Inspect: Windows 7
Adobe Muse: Adobe AIR 3.3
---