Corel
Product ID: 1746715 | Mfg Part #: VS2018PMLMBAM
Retail

$

79.99
$

75.95
Ships in 1-2 Business Days
---
​VideoStudio Pro 2018
Video Editing Software
NEW

workspaces and simplified UI

NEW

creative effects including Split Screen video

NEW

Lens Correction tools

ENHANCED

video editing tools

ENHANCED

360° video editing
Why VideoStudio Pro?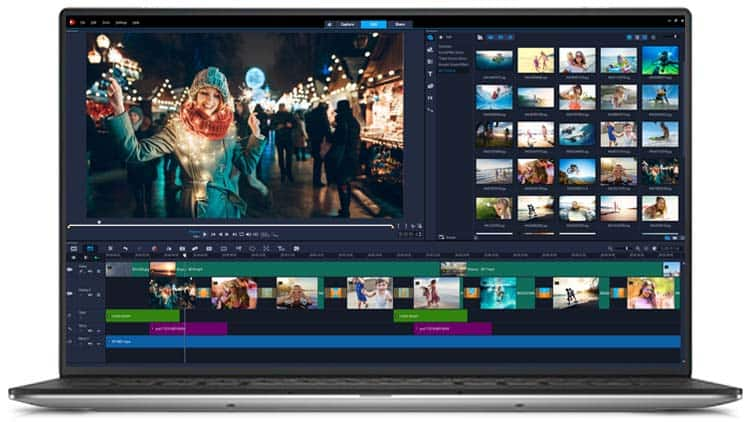 Easy and intuitive
Perfect for all skill levels, learn as you edit and create impressive videos right from the start.
Uniquely creative
Choose from 1,500+ filters and effects, enjoy multi-camera editing, play with speed, and more!
Award winning
VideoStudio is widely recognized for being easy and packed with features.
Supports popular formats
Edit HD, 4K, and even 360 videos to create great-looking movies.
Flexible and fun
Start with templates or edit on the Timeline and combine photos, videos, and audio on multiple tracks.
What's New? It's the best VideoStudio yet
From users to reviewers, everyone is talking about how many features we've packed into VideoStudio Pro 2018.
Resize and Crop Video tools
VideoStudio looks better than ever with a new, intuitive user interface that makes it faster and easier to edit your videos. Quickly crop video, resize, and position your media directly in the preview pane.
Split Screen video
Show multiple video streams simultaneously with new Split Screen video templates. Easily drag and drop to create impressive promotional videos or share the highlights from your latest trip! Looking to do even more? Create your own custom split screen layouts with the Template Creator in VideoStudio Ultimate.
Lens Correction tools
Quickly remove distortion from wide angle cameras or action cameras with new and intuitive controls to make this easy, freeing you up to focus on the fun parts of video editing.
Stop Motion Animation
Plug in your camera and capture your animation frame by frame. Now with support for all popular Canon and Nikon cameras and enhanced controls to help you capture your stop motion animation perfectly.
Pan and Zoom
Zoom in on the action, or pan across a scene with new controls. Apply visual pan and zoom effects to your video across custom motion paths with easy to use controls.
360 Video Editing
Simply import your 360° footage and start editing! With expanded support for popular 360 degree cameras, export your 360 video directly to YouTube, your VR headset, and more!
XAVCS to SD
VideoStudio continues to support the latest file formats and associated peripherals. Now adding XAVC-S authoring to SD card, so you can export your video for playback directly on your camera.
Smoother and Faster Rendering
VideoStudio is optimized for the latest video hardware acceleration technologies from Intel and nVidia, which improves efficiencies and dramatically speeds up rendering to popular file formats.​
System Requirements
Internet connection required for installation, registration and updates. Registration required for product use.
Windows 10, Windows 8, Windows 7, 64-bit OS highly recommended
Intel Core i3 or AMD A4 3.0 GHz or higher

Intel Core i5 or i7 1.06 GHz or higher required for AVCHD & Intel Quick Sync Video support
Intel Core i7 or AMD Athlon A10 or higher for UHD, Multi-Camera or 360° video

4 GB of RAM or higher, 8+ GB highly recommended for UHD, Multi-Camera, or 360° video
Minimum 256 MB VRAM, 512MB or higher recommended for hardware decoding acceleration
HEVC (H.265) support requires Windows 10, supporting PC hardware or graphics card and Microsoft HEVC video extension installed
Program available for installation in 32 or 64 bit. Some features only available in 64 bit (3D title Editor, NewBlue Titler Pro, Boris Title Studio)
Minimum display resolution: 1024 x 768
Windows-compatible sound card
Minimum 8 GB HDD space for full installation
Digital download option available if DVD-ROM drive not available for installation
Accessories
DVD burner for creating DVD and AVCHD discs
Input Options
Capture from DV, HDV and Digital8 camcorders or VCRs (requires a FireWire port)
Capture from analog camcorders with compatible analog capture card
Capture from USB capture devices, PC cameras, webcams
Import from AVCHD and other file-based camcorders, digital still cameras, mobile devices and discs
Import Formats
Video: AVI, DivX*, DV, DVR-MS, HDV, HEVC (H.265), M2T, M2TS, M4V, MKV, MOD, MOV (H.264), MPEG-1/-2/-4, MXF, SWF*, TOD, UIS, UISX, WebM, WMV, XAVC, XAVC S, 3GP, Non-encrypted DVD titles
Audio: AAC, Aiff, AMR, AU, CDA, M4A, MOV, MP3, MP4, MPA, OGG, WAV, WMA
Image: CLP, CUR, DCS, DCX, EPS, FAX, FPX, GIF87a, ICO, IFF, IMG, JP2, JPC, JPG, MAC, MPO, MSP, PBM, PCT, PCX, PGM, PIC, PNG, PPM, PSD, PSPImage, PXR, RAS, SCI, SCT, SHG, TGA, TIF/TIFF, UFO, UFP, WBM, WBMP, WMF, 001, Camera RAW
Export Formats
Video: AVI, DV, HDV, HEVC (H.265), M2T, MOV, MPEG-1/-2/-4, UIS, UISX, WebM, WMV, XAVC S, 3GP
Device: Apple iPod/iPhone/iPad/TV, Sony PSP/PS3/PS4, Nintendo Wii, Microsoft Xbox compatible formats
Audio: AC3, M4A, OGG, WAV, WMA
Image: BMP, JPG
Blu-ray Support
Requires purchase of a separate plug-in from within the product
Requires Blu-ray Disc reader and/or burner
Supported Languages
Dutch, English, French, German, Italian, Japanese, Traditional Chinese
* DivX & SWF: DivX codec for DivX and Flash player for SWF are required to enable these formats.
Product specifications are subject to change without notice or obligation.
---