MAGIX
Product ID: 1613592 | Mfg Part #: 110267EDU-UG
Who's Eligible
(Details)
Student, Faculty, School, Organization, Staff
$

175.95
Electronic Software Delivery
---
Please Note: Once the order has been processed, this product is nonreturnable.
VEGAS Pro 14 Suite provides ultimate power through professional solutions and tools that give you complete control of your projects. The unparalleled feature set of VEGAS Pro Core and the disc authoring of DVD Architect combine with the industry's elite plugin developers to provide topnotch image stabilization, titling, chromakeying, 3D object manipulation, and Mochapowered motion tracking so you have all the finest tools you need in order to get the job done. HEVC and native ProRes support ensures that you can work with more footage then ever, and smart plugins convert HD footage to 4K and UHD with minimal artifacts.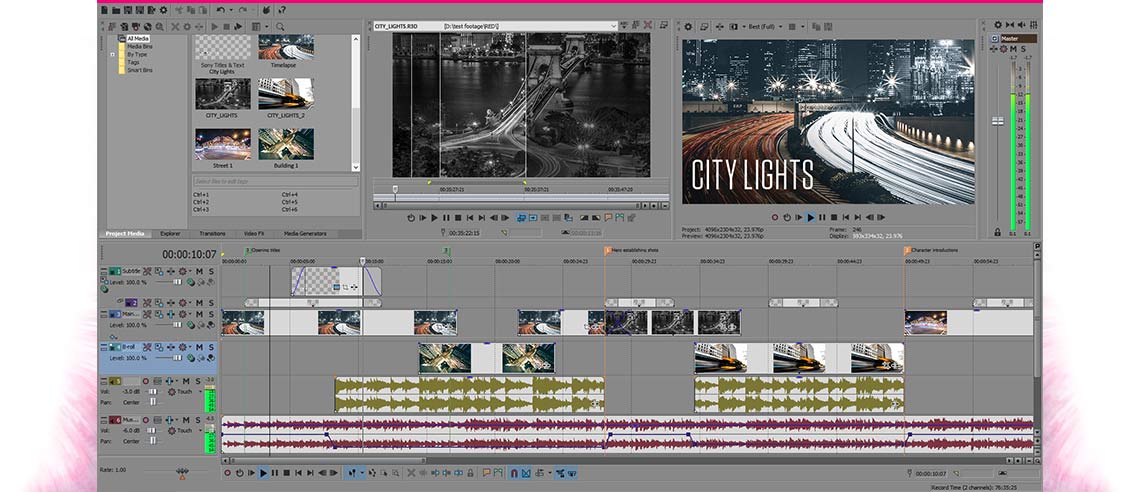 Top Features
Motion tracking, 3D object creation and Chromakey tools from Boris FX
Smart tools for upscale resolution and video enhancement
Image stabilization with proDAD Mercalli V4
HEVC file support
Native ProRes file support
Clip speed change up to 40x
Trimmer hover scrub technology
New hardware support
High DPI support
High Frame Rate (HFR) support
Titler Pro Express from NewBlueFX
Contents
VEGAS Pro 14 software
DVD Architect software
proDAD Mercalli V4
Boris FX BCC Match Movie unit
Boris FX BCC Chromakey unit
Boris FX BCC 3D Objects unit
New Blue Titler Pro 3
System requirements
For Microsoft Windows 7 | 8 | 8.1 | 10
64bit systems
All VEGAS programs are developed with userfriendliness in mind so that all the basic features run smoothly and can be fully controlled, even on lowperformance computers. The technical data for your computer can be found in the control panel of your operating system.
Processor: 2 GHz, (multicore or multiprocessor CPU recommended for HD or stereoscopic 3D; 8 cores recommended for 4K)
RAM: 4 GB RAM (8 GB recommended; 16 GB recommended for 4K)
Hard drive space: 500 MB harddisk space for program installation
Graphics card: Solidstate disk (SSD) or highspeed multidisk RAID for 4K media Supported NVIDIA, AMD/ATI, or Intel GPU with at least 512 MB of memory — 1 GB recommended for 4K and GPUaccelerated video processing:
NVIDIA Requires a CUDAenabled GPU and driver 270.xx or later. GeForce GPUs: GeForce GTX 4xx Series or higher (or GeForce GT 2xx Series or higher with driver 297.03 or later). Quadro GPUs: Quadro 600 or higher (or Quadro FX 1700 or higher with driver 297.03 or later).
AMD/ATI Requires an OpenCLenabled GPU and Catalyst driver 11.7 or later with a Radeon HD 57xx or higher GPU. If using a FirePro GPU, FirePro unified driver 8.85 or later is required. Radeon HD 7xxx or higher recommended for native 4K editing.
Intel Requires an OpenCLenabled GPU (such as HD Graphics 4000 or higher).
Internet connection: Required for activating and validating the program. Program requires onetime
registration.
Supported imports:
Video standards: 4K XAVC S, 4K XAVC, XDCAM EX, XDCAM Optical
Video formats: MOV, DV, HDV, AVCHD, NXCAM, WMV
Video codecs: H.264 AVC, AAC, MP4, MPEG1/ 2/4
Audio: FLAC, MP3, OGG, SurroundSound/ 5.1, WAV, WMA
Image: OpenEXR and DPX image sequences, BMP, PNG, JPEG, WDP image sequences, TIFF
Supported exports:
Video standards: DVD, Bluray Disc, AVCHDDisc
Video formats: (DV) AVI, MJPEG, MXV, MOV, WMV
Video codecs: HEVC/H.264, MPEG1/ 2/4
Audio: WAV
Image: OpenEXR and DPX image sequences, BMP, PNG, JPEG, WDP image sequences, TIFF
---