MAGIX
Product ID: 1704892 | Mfg Part #: ANR007742EDU
Who's Eligible
(Details)
Student, Faculty, School, Organization, Staff
Retail

$

399.00
$

199.95
Electronic Software Delivery
---
Please Note: Once the order has been processed, this product is nonreturnable.
BUILT TO POWER YOUR UNIQUE WORKFLOW
VEGAS Pro Edit delivers a set of complete, modern editing tools in a lean, logical interface to help you realize your optimal creativity. The new, completely customizable, user interface enables you to work fast and efficiently. Filled with new features that deliver the power, accuracy, and speed you need to achieve professional results, version 15 takes innovation and creativity to new heights - again.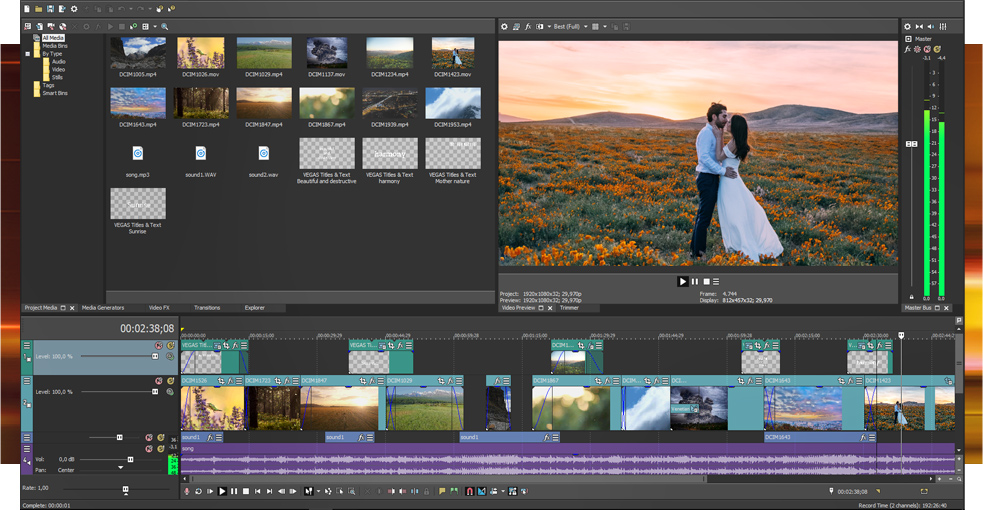 Professional tools for professional results
VEGAS Pro invented real-time timeline editing and now advances that with a user interface that enables you to completely customize your workflow for the ultimate in flexibility. Version 15 is filled with new features that accommodate your unique workflow, enhance the editing experience, and power your creativity.
Edit. Refine. Deliver.
VEGAS Pro 15 provides all the tools you need to precisely edit, creatively refine, and rapidly deliver your project in a wide variety of formats. Whether you work in HD or 4K, version 15 accommodates your workflow. Get your project in front of your viewers faster with NVIDIA and Intel QSV hardware acceleration.
NEW FEATURES AT A GLANCE:
Hardware acceleration from modern graphics cards and Intel QSV
Selectively paste event attributes
ACES 1.0 support
Picture-in-Picture OFX plug-in
Crop OFX plug-in
LUT OFX plug-in
User definable visible button sets
Redesigned track headers and timeline clip events
Instant freeze frame
Selectable background shade
Color-strength-adjustable icon artwork
Logical, modern docking window controls
System Requirements
Operating system: Microsoft® Windows 7 (64-bit), Windows 8 (64-bit) or Windows 10 (64-bit)
Processor: 2 GHz (multicore or multiprocessor recommended for HD or stereoscopic 3D; 8 cores recommended for 4K)
RAM: 4 GB RAM (8 GB recommended; 16 GB recommended for 4K)
Hard drive space: 1.5 GB hard-disk space for program installation; Solid-state disk (SSD) or high-speed multi-disk RAID for 4K media
Graphics card: Supported NVIDIA®, AMD/ATI® or Intel® GPU with at least 512 MB of memory (1 GB recommended for 4K and GPU-accelerated video processing)
Supported GPU
NVIDIA
1 GB recommended for 4K — required for Smart Zoom/Smart Scale/Smart adaptive deinterlacing, and GPU-accelerated video processing.
For hardware rendering (NVEnc):
GeForce 600 series onwards (6xx, 7xx, 9xx, 10xx)
Quadro Kxxx, Mxxx and Pxxx
AMD/ATI
Requires an OpenCL-enabled GPU and Catalyst driver 11.7 or later with a Radeon HD 57xx or higher GPU. If using a FirePro GPU, FirePro unified driver 8.85 or later is required.
Intel
Intel Skylake or newer processor required for QSV accelerated 8-bit HEVC/AVC decoding and encoding, Intel KabyLake or newer processor required for QSV accelerated 10-bit HEVC encoding and decoding.
Supported formats
Import
AAC, AA3, AVI, BMP, MPEG-1, MPEG-2, MPEG-4, WMV, HEVC, ProRes, AAC, AIFF, FLAC, LPEC, MP3, OGG, PCA, W64, WAV, WMA, BMP, JPEG, PNG, TIFF, WDP, WMPhoto, DDS, DPX, EX, AAF, Premiere/After Effects (*.prproj), Final Cut Pro 7/ DaVinci Resolve (*.xml), Final Cut Pro X (*.fcpxml), EDL Text File (*.txt), Broadcast Wave Format, DVD Camcorder Disc, Closed Captioning
Export
AAC, AA3, AVI, BMP, MPEG-1, MPEG-2, MPEG-4, WMV, HEVC, ProRes, AAC, AIFF, FLAC, LPEC, MP3, OGG, PCA, W64, WAV, WMA, BMP, JPEG, PNG, TIFF, WDP, WMPhoto, DDS, DPX, EXR, VEGAS Project Archive (*.veg), Pro Tools AAF File (*.aaf), Media Composer AAF File (*.aaf), Premiere/After Effects (*.prproj), Final Cut Pro 7/DaVinci Resolve (*.xml), Final Cut Pro X (*.fcpxml), EDL Text File (*.txt), XDCAM Disc
---