MAGIX
Product ID: 1704893 | Mfg Part #: ANR007745EDU
Who's Eligible
(Details)
Student, Faculty, School, Organization, Staff
Retail

$

799.00
$

399.95
Electronic Software Delivery
---
Please Note: Once the order has been processed, this product is nonreturnable.
INSPIRATION MEETS PRODUCTIVITY
When inspiration strikes, you need a tool that gives you the power to follow that inspiration with maximum productivity. VEGAS Pro Suite makes inspired productivity a reality. Start with a world-class NLE, add a powerful disc-authoring application, and balance it out with a collection of high-quality plug-ins to create a suite of amazing products that delivers professional results.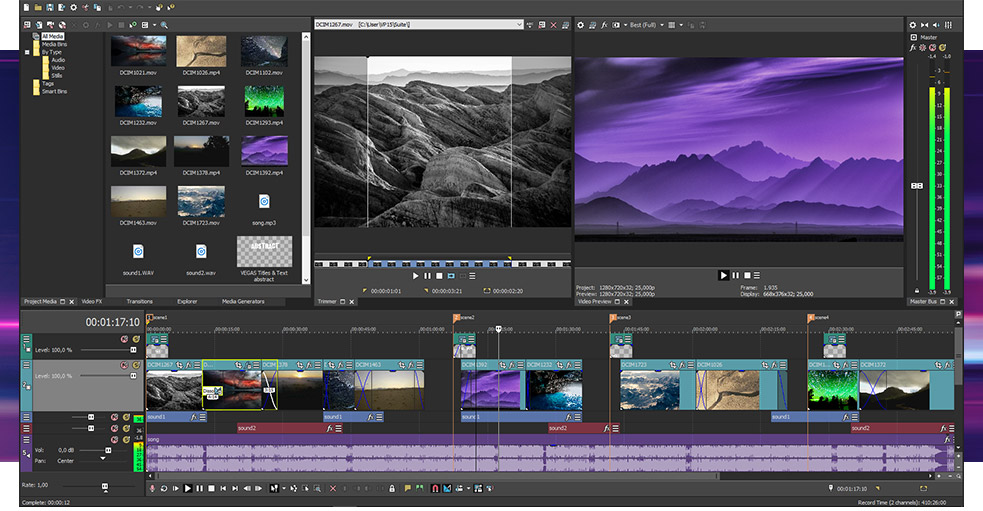 Edit without limits
Work with video shot with your mobile device, a professional 4K camera, and anything in between. VEGAS Pro takes it all in stride and moves from one format to another with ease. The same with audio. Work with low-resolution audio or pristine 24-bit, 192kHz high-resolution audio and everything in between; mono, stereo, or 5.1 surround sound. Mix formats on the same timeline. VEGAS Pro automatically matches all media to the project settings and plays them all back in real-time. No pre-rendering or transcoding. Just start editing.
Endless creative options
Start with the all the native filters and effects in VEGAS Pro and add to that an impressive collection of plug-ins from the industry's leading developers—Boris FX, HitFilm, and NewBlueFX. Then the creative possibilities really get exciting.
NEW FEATURES AT A GLANCE:
Hardware acceleration from modern graphics cards and Intel QSV
Selectively paste event attributes
ACES 1.0 support
Picture-in-Picture OFX plug-in
Crop OFX plug-in
LUT OFX plug-in
User definable visible button sets
Redesigned track headers and timeline clip events
Instant freeze frame
Selectable background shade
Color-strength-adjustable icon artwork
Logical, modern docking window controls
NewBlueFX Filters 5 Ultimate
HitFilm Movie Essentials
Boris FX Sapphire Render Unit
NewBlueFX Titler Pro 5
System Requirements
Operating system: Microsoft® Windows 7 (64-bit), Windows 8 (64-bit) or Windows 10 (64-bit)
Processor: 2 GHz (multicore or multiprocessor recommended for HD or stereoscopic 3D; 8 cores recommended for 4K)
RAM: 4 GB RAM (8 GB recommended; 16 GB recommended for 4K)
Hard drive space: 1.5 GB hard-disk space for program installation; Solid-state disk (SSD) or high-speed multi-disk RAID for 4K media
Graphics card: Supported NVIDIA®, AMD/ATI® or Intel® GPU with at least 512 MB of memory (1 GB recommended for 4K and GPU-accelerated video processing)
Supported GPU
NVIDIA
1 GB recommended for 4K — required for Smart Zoom/Smart Scale/Smart adaptive deinterlacing, and GPU-accelerated video processing.
For hardware rendering (NVEnc):
GeForce 600 series onwards (6xx, 7xx, 9xx, 10xx)
Quadro Kxxx, Mxxx and Pxxx
AMD/ATI
Requires an OpenCL-enabled GPU and Catalyst driver 11.7 or later with a Radeon HD 57xx or higher GPU. If using a FirePro GPU, FirePro unified driver 8.85 or later is required.
Intel
Intel Skylake or newer processor required for QSV accelerated 8-bit HEVC/AVC decoding and encoding, Intel KabyLake or newer processor required for QSV accelerated 10-bit HEVC encoding and decoding.
Supported formats
Import
AAC, AA3, AVI, BMP, MPEG-1, MPEG-2, MPEG-4, WMV, HEVC, ProRes, AAC, AIFF, FLAC, LPEC, MP3, OGG, PCA, W64, WAV, WMA, BMP, JPEG, PNG, TIFF, WDP, WMPhoto, DDS, DPX, EX, AAF, Premiere/After Effects (*.prproj), Final Cut Pro 7/ DaVinci Resolve (*.xml), Final Cut Pro X (*.fcpxml), EDL Text File (*.txt), Broadcast Wave Format, DVD Camcorder Disc, Closed Captioning
Export
AAC, AA3, AVI, BMP, MPEG-1, MPEG-2, MPEG-4, WMV, HEVC, ProRes, AAC, AIFF, FLAC, LPEC, MP3, OGG, PCA, W64, WAV, WMA, BMP, JPEG, PNG, TIFF, WDP, WMPhoto, DDS, DPX, EXR, VEGAS Project Archive (*.veg), Pro Tools AAF File (*.aaf), Media Composer AAF File (*.aaf), Premiere/After Effects (*.prproj), Final Cut Pro 7/DaVinci Resolve (*.xml), Final Cut Pro X (*.fcpxml), EDL Text File (*.txt), XDCAM Disc
---